Doc ID: 5255
Q: I am using GeForce NOW on an LG TV. How do I input text to log into my digital games store account?
A: GeForce NOW supports the LG TV's on-screen keyboard, which allows you to use your LG TV remote to type text when a game or login requests it.
When streaming a game, the gamepad's right thumbstick can be used like a virtual mouse to navigate any dialog boxes in which you need to input text. You will need to bring up the virtual keyboard first.
To bring up the virtual keyboard, press the start button on your gamepad for a few seconds to open the in-game overlay, then open the virtual keyboard. Once the in-game overlay is open, you can use the right stick on your gamepad like a mouse to select the correct dialog box. The gamepad A button, the right trigger, and right stick button can be used as a left mouse click.
When you have highlighted the dialog box in which you want to input text using the gamepad's right thumbstick, press A on the gamepad, and then pick up the LG TV remote to interact with the on-screen keyboard. Once you are done, use your gamepad's right thumbstick to move the cursor to the Steam LOGIN dialog box. Once you have highlighted it, press the gamepad's A button.
You can change the default language of your keyboard by going to the TV's menu and selecting All Settings > General > System > Language > Keyboard Languages.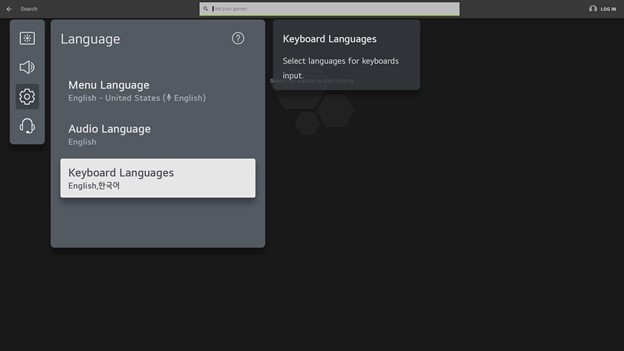 Once that is done, the next time you bring up the virtual keyboard you will see the new language for your keyboard on screen.